Current Specials
Specials are subject to availablility, and applicable only while stocks last. We may withdraw these specials at any time. All Specials must be paid for at time of pick up.
2.4 x 150 H4 Pointed POSTS
By the Bundle: $16.00 + GST per post

These posts are H4 treated, and pointed, although some of the points are a little "blunt".

They would be excellent for farm or lifestyle block fencing, hanging gates, vineyard posts or similar. Feel free to come in and view them...anytime from Monday - Friday.
Farm packs of Timber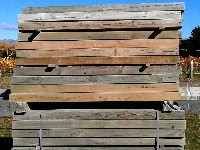 We often have packs of timber to clear - mixed size, or grade. Ask us about our farm packs - Pine and Black Poplar. Currently on sale are 2 packs of 90*90 H4 Reeded Posts, second grade, 1.8m or 2.4m lengths, with some 2.7m lengths available. Price is $6pm + GST by the post, or $4pm + GST by the pack.
Native Beech Slabs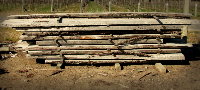 Open to offers!!

A variety of widths and lengths, mainly in the 2.4 - 3.0 metre range, these rustic beech slabs would make great garden furniture, or landscaping features. Call in today, and take a look - some of these are under $40 a piece...
100 x 30 Eucalyptus Obliqua (Gum)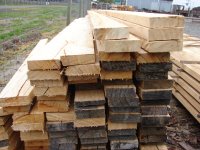 Clearance: $1.80 per lineal metre + GST

This is variety of Gum is quite hard, and suitable for cattle yards, sheep yards and other incidental farm tasks.

The grade of the timber is "building grade", there are a few gum pockets and some resin streaking throughout.